Darshan For Physically Handicapped Tickets Availability : TTD Online Booking
TTD Special Darshan for physically challenged
Darshan For Physically Handicapped Tickets Availability (Darshan Physically Disabled) The Tirumala Tirupati Devastanam provides the special entry darshan for the physically challenged once. There are the special timings for the senior citizens and physically challenged once for Lord Venkateswara Darshan. It is a good idea for giving the comfortable and without risk darshan for physically challenged Devotees.
For the physically disabled persons permitted in the special entrance in Tirumala through the Supatham entry for the darshan near Tirumala nambi temple which is located at South Mada street.
Supatham entry has the free ticket for the persons. And this Supatham is 100 feet to 200 feet from the entrance of Vaikuntam Queue Complex. For the Lord, Darshan pilgrims should be there at the entrance in advance. This TTD staff will allow the devotees in batches vice. If you can come late then you have to go in the second batch.
Dharana timings for Darshan For Physically Handicapped: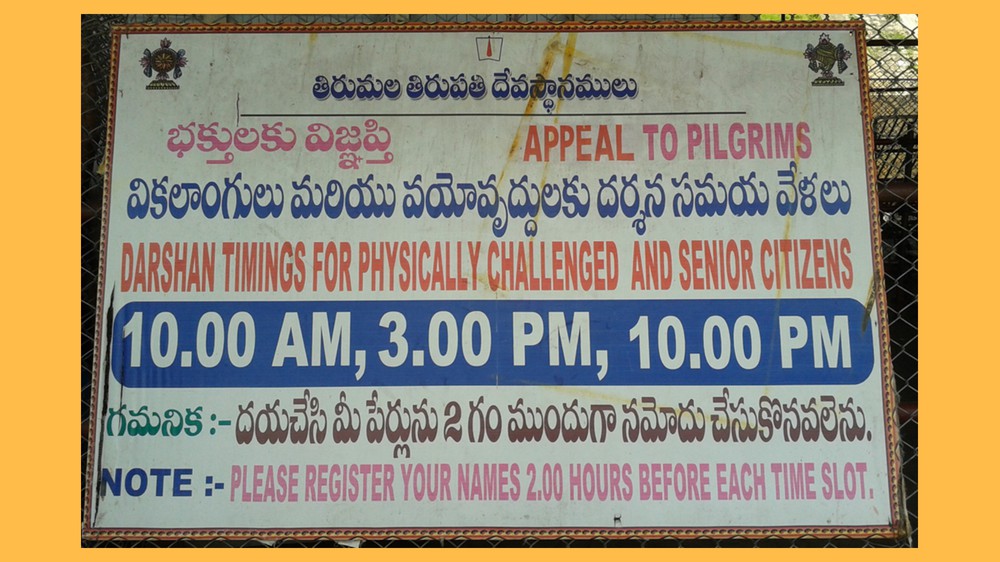 Physically disable devotees are allowed daily in two scheduled timings
Morning:
Reporting Time: 08:00 AM
Darshan Timing: 10:00 AM
Afternoon:
Reporting Time: 01:00 PM
Darshan Timing: 03:00 PM
There are some instructions for the Physically Challenged devotees:
From the Srivari temple entrance, the wheelchair is available for transportation
It is the free darshan also senior citizens are allowed for darshan
Devotees have to report in advance for 2 hours at senior citizens entrance for enrollment
Srivari sevakulu assist the devotee darshan timings all the time
At darshan time water and milk will provide to devotees
There is no limit for the darshan, one person can do darshan as many times as he wants
If the person is married then one person will allow for darshan
If the person is married then his/her wife and children below 12 years will allow for darshan
Read other Darshan information also: TTD Darshan Types
Book Darshan Tickets Online Here: TTD Darshan Tickets Booking 
Also Read: TTD Sarvadarshanam