Vasanthotsavam Seva Tickets Availability : TTD Online Booking
TTD Vasanthotsavam (Annual Seva)
Vasanthotsavam Seva Tickets Availability (Vasanthotsavam Seva) This is the annual festival performed in Tirumala for Lord Venkateswara. This Vasanthotsavam is done on auspicious days of Trayodasi, Pournami, and Chaturdasi in the Chaitra month like March or April. Vasanthotsavam is the three days festival and starts with the ankurarpanam.
This Vasanthotsavamm festival is celebrated as the remainder for coming summer season and end of spring season. This Vasanthotsavam started in 1463 AD by the King Achytharaya for Vijayanagara Dynasty and celebrated every year in the April month.
Sanapana Tirumanjanam is the main specialty of this Annual Seva. First two days, persists gives the holy bath to Sri Malayappa swami and the third day all the idols from three yugas are brought to Vasantha Mandapam and with Vedic mantras, Abhishekam will perform.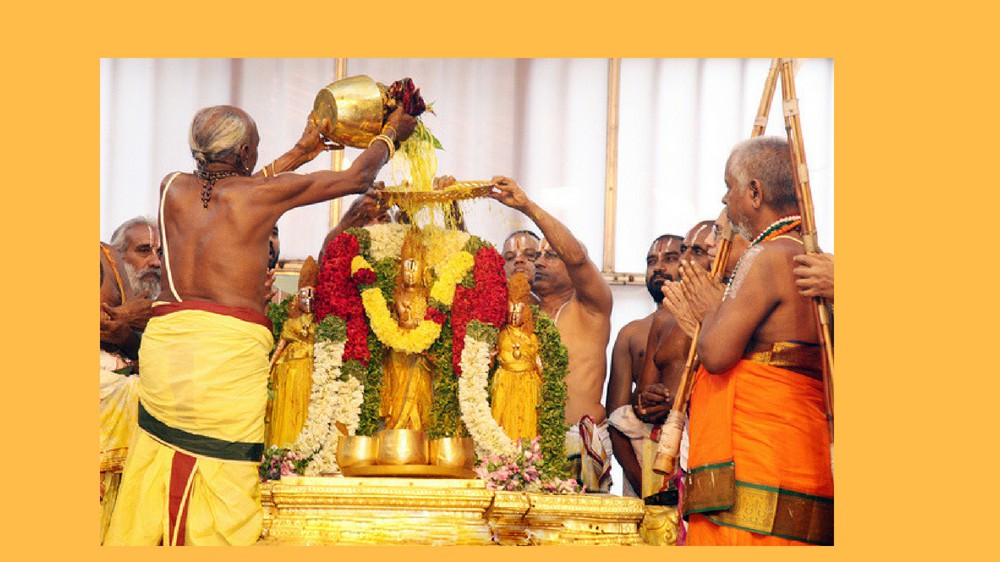 Threta Yugam: Lord Sri Rama, Seetha, Lakshmana and Hanuman
Dwapara Yugam: Lord Sri Krishna, Rukmini, and Satyabhama
Kaliyugam: Lord Venkateswara (Malayappa Swami), Sri Devi and Bhu Devi
The importance of Vasanthotsavam:
In this Vasanthotsavamm Lord Srinivasa along with his beautiful wifes, Sri Devi and Bhu Devi are given the leisure bath with aromic salts to give relief from the hot sun.
One day before of this Vasanthotsavam festival starts with Ankurarpanam (Nine different seed are sowed). Next, the three days ritual starts with the Punya Vachanam, Vaasthu Shanthi, and Samprokshanam.
Punya Vachanam:  In this, they can purify all the things which offered to deities.
Vaasthu Shanthi: This Vaasthu Shanthi consists of the two phases as follows
Worshipping the Panchabuthas Lords of Nature also their elements:
God of Fire – Agni
Lord of Water – Varuna
Lord of Ether – Akash
God of Air – Vaayu
Lord of Earth – Prithvi
Worshipping the deities of eight directions:
Lord for North direction – Kubera
Lord for West – Varuna
Lord for South – Yama
Lord for East – Indra
God for South east direction – Agni
God for North east direction – Isana
Lord for South West – Nirrthi
God for North West direction – Vayu
Samprokshanam: At last holy water will sprinkle on the rituals by the main Archakas in a temple.
The above mentioned three segments are done in the Ekantham. After completing these three segments then the Lord Malayappa Swami along with his two wives (Sri Devi, Bhu Devi) are brought to Vasantha Mandapam. That place already decorated with the fresh color flowers garlands. These fresh flowers give the relief for Lord from summer.
Timings 
This Vasanthotsavam ritual starts at 01:00 PM
Ticket Cost 
For this Annual Seva, ticket cost is Rs 300 for one day per head
Prasadam:
Two small Laddus, One Vada, One upper silk piece and one blouse piece
How To Book Vasanthotsavam Seva Tickets Online: TTD Online Booking Registration Process
Book the Vasanthotsavamm tickets in advance 90 days. These tickets are available online or in e-counters. The devotees who have the Vasanthotsavam tickets, they can take Darshanam of the main Lord Srinivasa idol in sanctum after this ritual.
Book Vasanthotsavam Seva Tickets Online Here:  Book TTD Seva Tickets Online
Also Read: TTD Abhideyaka Abhishekam