Book Seva Tickets Online Availability : TTD Online Booking
TTD online seva tickets booking
Book Seva Tickets Online Availability (Seva Tickets Online) The Tirumala Tirupati is a glorious and remarkable structure, of ancient sculpture and carvings and it is very popular Hindu temple, Tirupati is visited by 50,000 people every day and about in million in any special occasions. So it is the best way to book your seva tickets in advance.
Many people who visit Tirumala facing problems to get seva tickets, they need to stand in queue hours and hours, to get rid of this problem TTD has launched TTD Seva online Registration for devotes. Devotes who come from a long distance can book their seva tickets in advance through TTD portal online
This article gives you detail guide on ttd online seva tickets booking in advance through online, let have to glance…
TTD Seva Tickets Online Booking:
This is the available Seva's you can book online
Vasanthostavam
Kalyantsavam
Unjal Seva
Arijitha Brahmotsavam
Sahasra Deepalankara Seva
Requirements you book TTD seva Tickets Online
Person must have valid email Id accounts
Scanned image of the person of size less than 20kb
Proof of identity and (Pan Card, Driving licenses, Aadhar, voter id )
Valid bank account details (debit card, credit card)
User Registration should be completed or click on sign up for new registration
Instructions need to be followed before booking:
Pilgrim can book minimum 3 days in advance or maximum of 90 days
Only 2 seva tickets can be booked on the same date in all seva
You cannot book 2 seva tickets on different seva dates
If you want 2 seva tickets, the accompanying seva pilgrims details should be uploaded
Step by step process for ttd online seva tickets booking
Process to check ttd seva details Availability of seva tickets
It's best to check the ttd seva details availability of seva before booking tickets, as per your plan.
Go to the TTD online portal
Click on Seva to the left side of the page, as shown
Now, you will get seva page, select as your seva which you want to book and
check the availability on possible dates, here Green will indicate available, Red will indicate filled booking and Blue indicate not released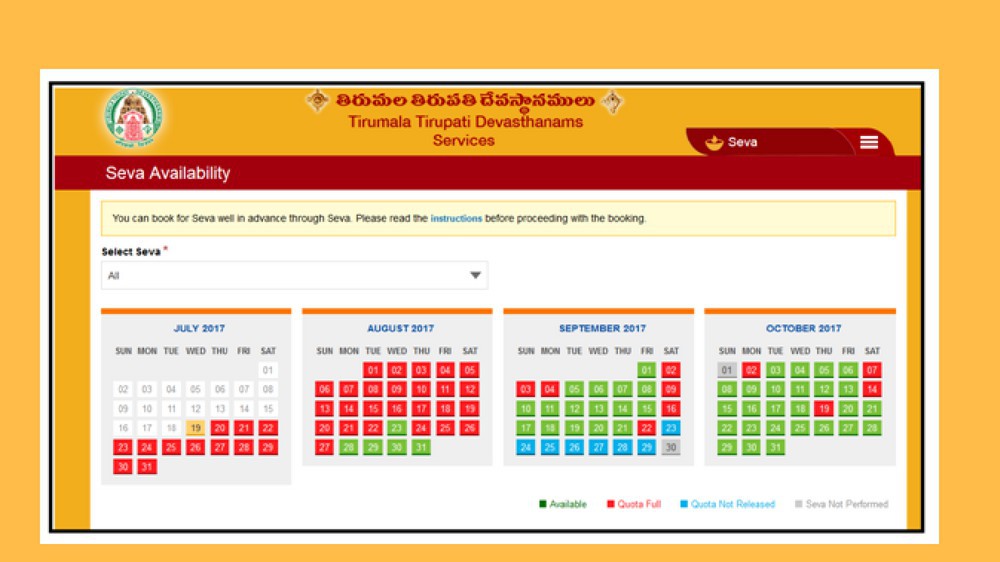 if there is availability, then process to further process
How To Book Seva Tickets Online: TTD Online Booking Registration Process
Login to the ttdsevaonline.com with your User id and Password
On the next screen, select seva name and seva date and click on continue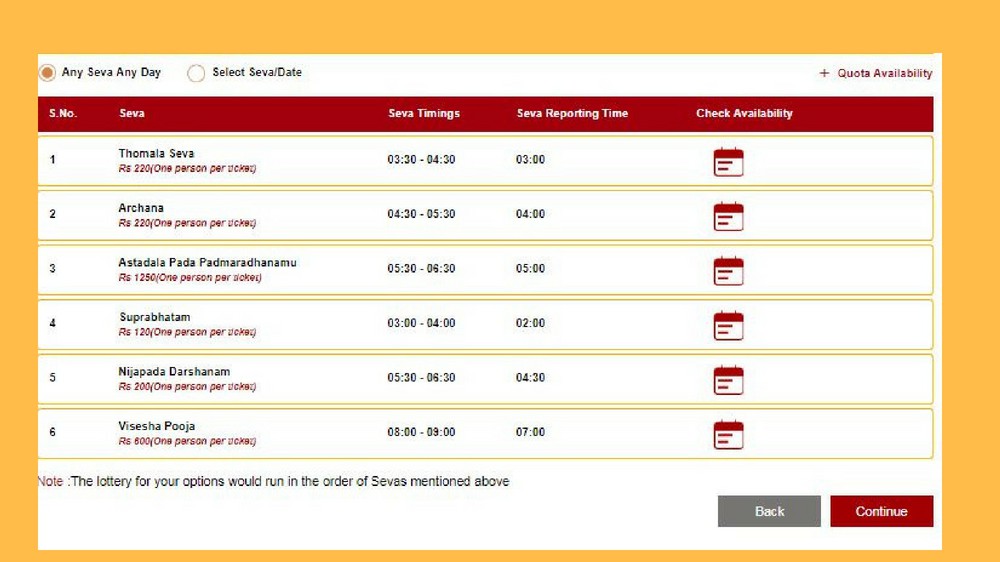 Now, enter your details like your age, state and click on choose to upload your scanned photos.
Check on I Agree with terms and conditions, and click on continue
Now, Transactions id will be allotted, save it for further references.
Now, choose your Banker's payment gateway Process. Fill up all the details like card no, CVV, expiry date and all accurately and click on NEXT
After successful payment, seva tickets will be produced along with Booking Number and you will get confirmation mail to your e-mail click on receipt to view and print.
You should keep 2 copies of a print of seva tickets and reads the instruction carefully.
This is all about, How to Book TTD seva Tickets in advance through Online. Hope it helps you; please share your suggestions with us
Have a happy Lord Sri Venkateswara Swami Seva and Blessing!!!!!
Also Read: Book Darshan Tickets Online