Book Darshan Tickets Online Availability : TTD Online Booking
Tirumala Online Ticket booking for darshan
Darshan Tickets Online Availability  (Book Darshan Tickets Online) The Tirumala Tirupati a most divine Hindu Temple in the hill town of Tirumala, near Tirupati in the Chittoor district of Andhra Pradesh, it is constructed in the Dravidian architecture style.
We can imagine the rush in the temple; we can never expect hassle-free and smooth Darshan, to get rid of this hassle TTD providing Tirupati Balaji darshan booking e-services through online seva portal which helps you in many ways. You just need to register with their web portal to avail this service.
Once you register with Tirupati Balaji darshan booking portal, you can avail the following services like
Accommodation
Darshan
Seva
Donation
Here this article will guide about ttd online darshan tickets booking, this assist you to avail their special Entry Darshan and eSudarsanam
Documents need before booking tickets for Tirumala Tirupati Balaji Darshan
Here are the documents, which need to be kept handy for Tirupati Balaji darshan booking without any hassles
Details of identity or identity proof scan copy. Anyone from below
Aadhar Card
Voter Id
Passport
Pan Card
Digital Photo to upload
If you are traveling with more number of people or family, List of their names with their identity proof
Payment option details (Debit, Credit card or Net banking details)
Instructions need to be followed before Tirumala darshan online booking
Follow the below instructions, before you Tirupati Balaji darshan tickets booking
Pilgrim should book minimum 3 days before or maximum 90 days
You can book only one Accommodation
Subsequent ttd online darshan ticket booking can be done only after 90 days from the last accommodation date
Accommodation will not be provided for one person
How To Book Darshan Tickets Online: TTD Online Booking Registration Process
Initially for ttd online darshan ticket booking, you need to get register with TTD portal, Remember registration is one-time process and conversely, you can avail all another online service at any time easily
To Get Register, follow below steps
Go to the Tirumala online ticket booking for darshan website https://ttdsevaonline,com/ and click on the sign-up
The screen will appear as shown below, fill up all the details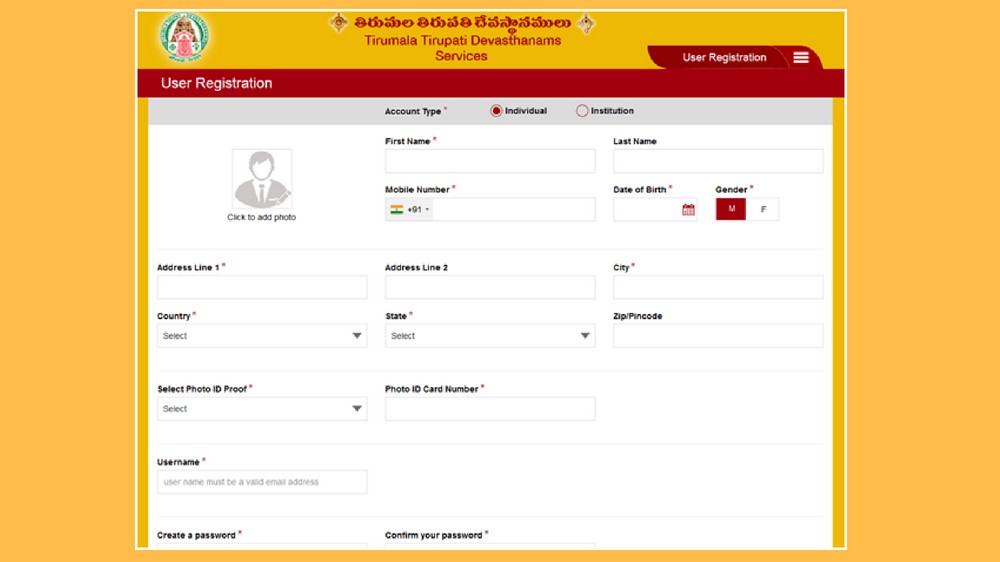 After filling up all the details, you will get a mail for account activation, click on the link sent in email to activate your account and you also get OTP to your mobile. Enter that OTP
That's it your Account will be activated, log in with user- id and password which you have created.
Process for Tirupati Balaji darshan ticket booking | Book Darshan Tickets Online
Step 1: Now, after logging with your login details, you will get a screen with various services as shown below. Click on the Special Entry Darshan
Step 2: Select Date, Time and Number of Persons and extra Laddus if needed, as shown below
This is the new interface of the TTD portal, it shows Green color if slots are available and it will also indicate you how many slots are available
Red color indicates booked dates and slot are filled and Blue implies slots are not yet released
Each person will get 2 Laddus by default and you can book 8 extra Laddus each cost RS 25/-
You can book ttd 50 rs darshan ticket online booking and ttd 300 rs darshan ticket online booking for maximum 6 people, with a ticket cost of 300 INR
After selecting a date and all, click on continue
Step 3: Next, fill up accompanying pilgrim details. details of the p[persons who are travelling with you (full name, ID proof as mentioned above in documents require)
Step 4: After filling, verify our Accompanying person details and click on Payment Option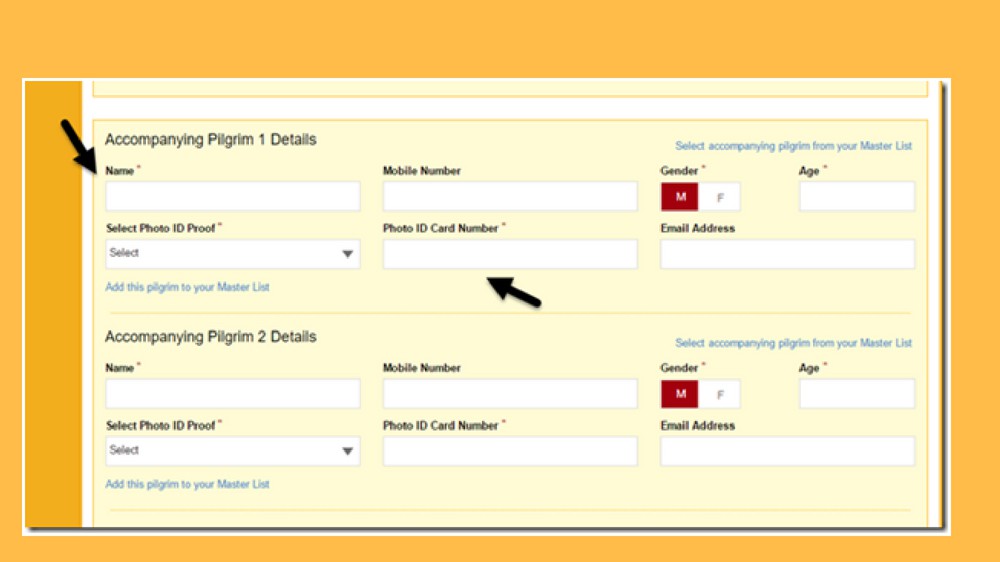 Step 5: You can choose any mode of payment and proceed further for Tirumala darshan online booking
Step 6: If your payment is successful, you will get a confirmation screen with ttd online darshan ticket booking reference number and you have the option to print and you save its PDF the best option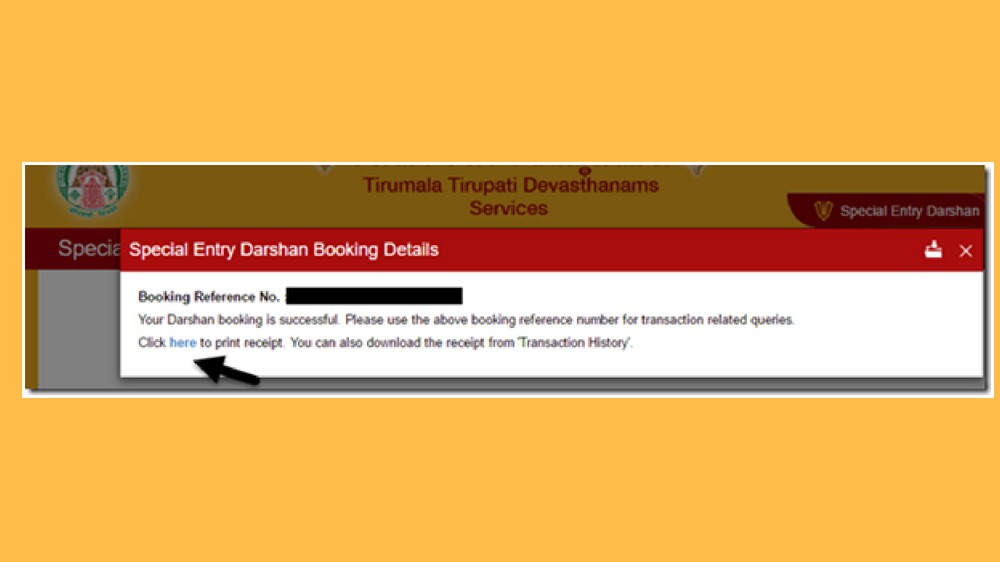 Step 7: In case, if you have missed Tirumala darshan online booking tickets, no worries!!! you can see it in Transaction History
Note:
In case, if you face any difficulties while ttd online darshan ticket booking registration details; feel free to call Helpline no of Devaswom. It works 24×7. Just dial below numbers
0877-2277777
0877-2233333
So, this is all about TTD Darshan tickets booking online, hope it helpful to you. Please share your Tirumala online ticket booking for darshan experience and quires with us. To book ttd 50 rs darshan ticket online booking check this article Sudarshan Token Darshan (ttd 50 rs darshan ticket)