Accommodation Booking Online: TTD Online Booking
TTD Devasthanam Room Booking
Book Accommodation in Tirumala Tirupati Online The Tirupati… One of the holy places, by hearing the name we think for a chance to visit. But one of the major challenges we face after visiting the temple is Accommodation.
So, to get rid of these hassles, Tirumala Tirupathi Devasthanams Board has launched Online Portal for Accommodation, this website can be ttdsevaonline.com
To know the booking accommodation process, this article will guide you completely through the process to book advance room reservation in online
Requirements for ttd rooms booking online 
Person must have valid email Id accounts
Scanned image of the person of size less than 20kb
Proof of identity and
Valid bank account details
Instructions need to be followed before Tirumala online room booking:
Pilgrim can book minimum 3 days in advance or maximum of 90 days
No ttd rooms booking online for single person
And Pilgrim can book only one ttd accommodation
Subsequent Tirumala online room booking can be done only after 90 days from the last accommodation date
Simple and step by step guide for Booking TTD Rooms Booking Online | Book Accommodation in Tirumala Tirupati Online
Initially go to the ttdsevaonline.com website and login with your User ID and Password, which you have created at the time of registration
If you have not registered yet, no worries!! You can check our last articles how to book TTD Darshan Tickets and to get registration process.
After login, you will get service page as shown below. Select Accommodation from the right top corner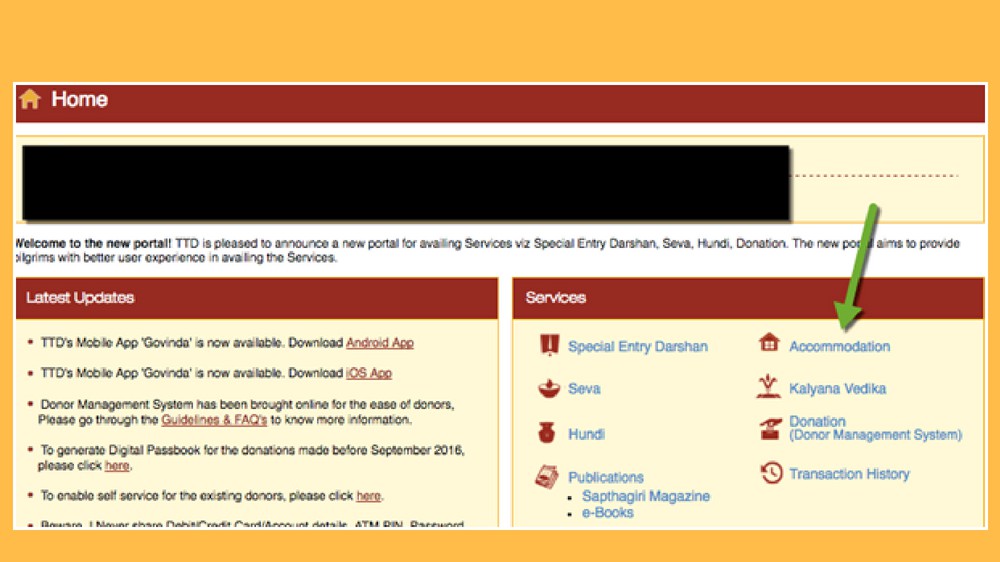 Select Accommodation date, type of Room, and check availability. You also have to select no of people, location
Here with this new interface will give you a clear idea of ttd devasthanam room booking, Green indicates the availability of Rooms and also shows no of ttd accommodation availability ranging from Rs. 50 – Rs 1500.
Red color indicates, UN -availability of Rooms on that particular date and the blue color indicates, room which is not released
You have to select the slot, as per what time you will check -in into the room. There will be 2 lots, one starts from morning 12 AM (after midnight) to 12 Noon, the second slot is from 12 Noon to 12 Mid Night.
You can book maximum of 6 people and you can book only for one day, you cannot extend the room
Confirm the primary Pilgrims details from your group, remember a phone number, proof is very necessary for confirmation of ttd rooms booking online.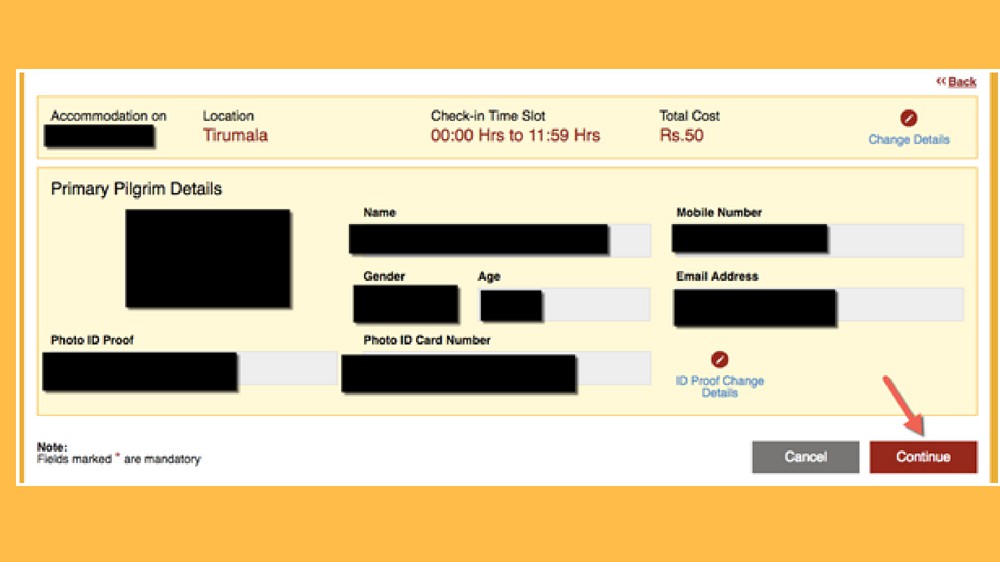 6.After pilgrim verification, choose the Payment option as per you convinces and proceed for further
7.You can choose any one Payment mood from the list (Debit card, credit card and Net banking) and proceed
8.After successful payment, you will get a confirmation with tirumala online room booking references number and you can print and you can also save as PDF file.
9. In case if you have missed it, No worries you can check and print from Transaction History
10.That's if you can get a ROOM at the Tirumala without any hassles for searching
Where you check or report in for Book Accommodation in Tirumala Tirupati Online | TTD Accommodation Room Booked Online:
Pilgrim should approach online reservation counter, which is available Opp CRO Office
Receipts should be submitted along with Original ID Proof which you have mentioned while booking
No additions time will be given of appeared late for reporting
Concerned Person mentioned in the receipt should appear at the counter for getting allotment confirmation
Other important information Related TTD Rooms Booking Online | Book Accommodation in Tirumala Tirupati Online:
How to book accommodation in Tirumala on Arrival?
Pilgrim, who cannot book accommodation through online, can get rooms at CROP office Tirumala. There will be long queue and rooms will be allotted on first come first basis
How to book accommodation in Tirumala with recommendation Letters?
Recordation letter can be accepted at C.R.O office Tirumala and Recommendation letter must be addressed to either Executive Officer Tirumala or Joint – Executive Officer Tirumala
How to Book Accommodations at Tirumala with Donor Passes?
He Donor Passes will be accepted at Donor Cell, C.R.O Tirumala, rooms will be allocated to concerned person and the letter must be addressed to either Executive Officer Tirumala or Joint – Executive Officer Tirumala
So, this all about ttd accommodation availability & ttd devasthanam room booking hope it helps to you!!! Print 2 copies of accommodation tickets, read the instruction carefully.
Have a happy Lord Sri Venkateswara Swami Darshan and Blessing!!!!!
Check More Accommodation also: Accommodation at Tirumala Tirupati