Abhishekam Seva Tickets Availability : TTD Online Booking
Tirumala Tirupathi Devasthanam Abhishekam Seva
Abhishekam Seva Tickets Availability (Abhishekam Seva) is a Sanskrit word for the divine bath which is performed to the main deity in any Hindu temple. According to the traditions, in Tirumala, it is performed on every Friday.
The Thomala and Archana Seva's are done normally in privacy every Friday after suprabhatha seva, and then Srivari Abhishekam is observed. It is most ancient Arjitha seva which is started observed in the hill shrine of Lord Venkateswara.
This abhishekam starts with holy water of which are brought from Akasa Ganga Teertham, followed by milk, Chandanam, Suddhodakam and other perfumed items like Saffron Paste, drops of civet oils and Pachcha Karpooram etc.
All this are arranged before in the silver vessels when Abhishekam performed to Purshasukta, Srisukta, Bhusuktha, Neelasuktha, Moola Virat, Narayanasukta, and particular Pasurams from the Divya Pradbandham are narrated by the priests.
Afterwords, the abhishekam is performed for the idols of Goddess Lakshmi and his chest with turmeric paste.
The Arjitha Grihastas, who are the part of this seva, were assembled inside the temple and each one is hand over with one silver vessel which contains different perfumed item like Saffron Paste, drops of civet oils and Pancha Karpooram etc. And all Arjitha Sevaparas hold these items around the inner prakara of the temple which convoyed by Mangala Vayidyas.
When they reach Bangaru Vakili, the vessels and plates are collected by Archakas and the items will be used when performing Abhishekam to the Deity.
The present silver idol of Bhoga Srinivas Murthy was offered by A Queen of Pallava "Samaavai" to the temple in 966 A.D. the idol is the accurate small imitation of the main vigraha.
She offered it in the year Jyestha Bahula Tritheeya, Sravana star was in the ascendant in Akshaya year and it was Friday. While inaugurating the Bhoga Srinivasa Murthy idol in the sanctum, Abhishekam was performed to the main deity also and from there the same practice of doing abhishekam to Moola Virat was started on every Friday.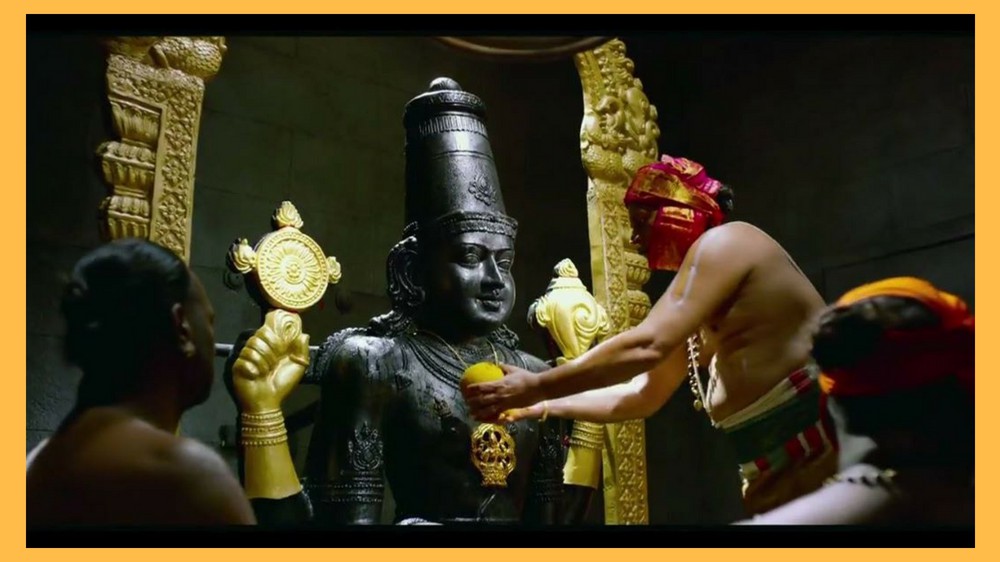 Timings of Abhishekam Seva:
This seva starts from 04:30 – 06:00 am every Friday and devotes should gather one hour before seva starts
Cost of the Tickets – Rs. 1250/-
Number of persons allowed per ticket – 1
Reporting time: 3:30 am
Reporting Place: VQCI
Dress Code:
Men's – should wear white pancha / Dhoti with shirt
Women's – should wear saree, half saree or chudidhar with Dupatta
How To Book Abhishekam Seva: TTD Online Booking Registration Process
You can book on current booking, tickets can be availed using high recommendation letters
submit recommendation letter at J.E.O Camp Office
if the letter is accepted, SMS will be delivered to the mobile number
After SMS confirmation, you need to collect tickets at MBC 34 by showing SMS and ID proof
Book Abhishekam Seva Tickets Online Here: Book TTD Seva Tickets Online
The ticket holders are permitted to sit from the Bangaru Vakili to the Garudalwar Shrine in Thirumamani Mantapam. Ladies should sit left side of the Lord and gents should sit right side
When performing the abhishekam the lights of Ramar Madai, Snapana Mantapam, Tirumamani and Sayana Mantapam were turned off so that all devotes can see the abhishekam till Garuda Shrine.
Also Read: TTD Weekly Sevas