Weekly Sevas Tickets Availability : TTD Online Booking
Weekly Sevas in Tirumala Tirupati Devasthanam
Weekly Sevas Tickets Availability (Weekly Sevas)Every day is like one festival in Tirumala, the Lord blesses his devotes in the specific ritual every day and these rituals are categorized as Weekly Pujas and this seva's allows a limited number of tickets.
Here this article will describe weekly seva's. So, let's have a look!!!
This seva is held on Monday only, during this seva Utsava murthy is brought in to the Mandapam for 'chaturdasa Kalasa' (14 kalasas) after taking the permission of Sri Malayappa Swami, ankurarpana and punyaha vachanam is given by archakas
Seven vessels contain these seven materials (dravyas) like curds, ghee, ginger oil, milk, yellow grain (aksata), panchagavya and Vidarbha and the other 7 vessels contain suddhokaka (pure water) this Abhishek performed to Utsava Murthy and two consorts. This puja starts at 7.30 am
Ashtadala Pada Padmaradhana is performed only on Tuesdays and it starts around from 6 am. This seva is started in 1984 when Muslim devotee offered 108 gold lotuses to the Lord Venkateswara. After performing Deepa and Dhoopa to the main deity, the priest's narrate the Dwadasa names of Lord Malayappa and along with each word gold, lotus is offered at his feet. At the end of this ritual, Harathi is offered to Lord Venkateswara Swami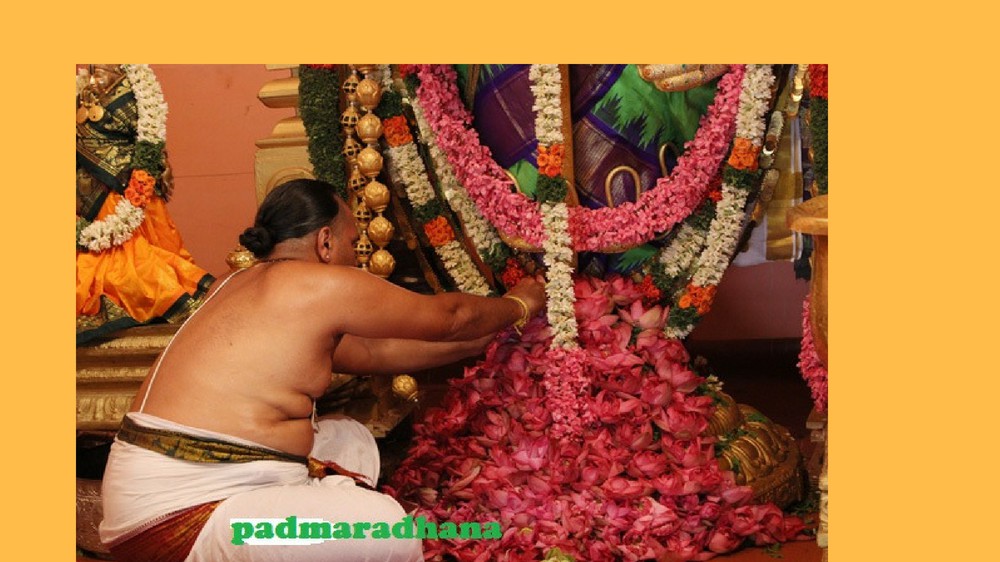 Sahasra Kalasadbisekam is performed only on Wednesdays'; it starts around 6 am where 1008 silver vessels (kalasas) are filled with holy water, sandalwood paste and more are arranged on a bed made with paddy.
This abhishekam is offered to Sri Malayappa Swami, Sri Bhoga Srinivasa Murthy, along with consorts and finally to Vishvaksena.
Tiruppavada Seva
This seva is performed every Thursday, after morning pooja. It starts around at 6:15 am in Tirumamani Mandapam, in this seva the deity will be draped only with Dhoti and Uttareeyam. Wher we can see peculiar Netra Darshan (the divine eyes of Lord ).
A huge quantity of pulihors is cooked and served to lord in a bif rectangular golden vessel along with other delicious sweets like payasam, laddu, then hole, appam, jibes etc. And they are placed along with flowers, coconuts, vermilion, sandalwood paste, and deep are offered to Lord Malaypawith chanting of mantras by priests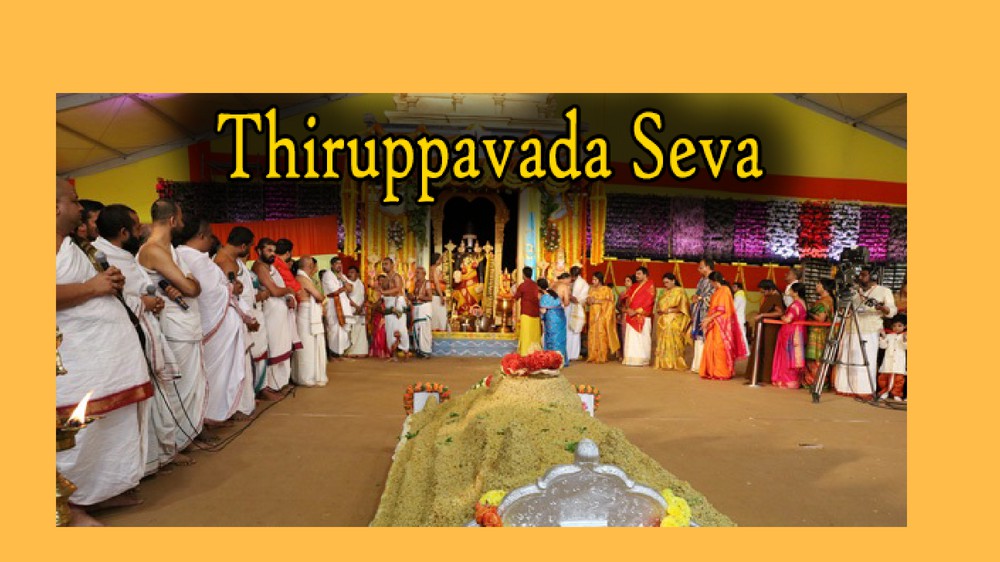 Pulangi Svea –
After Trippavadai seva, the temple is made sudden as part of the ritual and moola Virat is adorned with Velvet Gown which from Crown to feet and the main deity is decorated with a flower garland.
In this seva the main deity decorated especially with different garlands so it is called as Pulangi seva
Punugu kappa sates anointment with Civet oil and Scented oil, this seva is performed every Friday around 3:30 pm the deity is anointed with the mixture of Paccha karpuram, saffron past, and musk mixed with few drops of civet oil.
All this will be collected in silver cups and taken around the sanctum on the vimana pradakshinam along by music. Every Friday after Suprabhatha seva, the regular Thomala and Archana sevas are done in privacy and then Srivari Abhishekam can be seen. This abhishekam starts with holy water brought from Akasa Ganga theertham and with milk and all other items.
Book Weekly Sevas Tickets Online Here: Book TTD Seva Tickets Online
Also Read: TTD Ashtadala Pada Padmaradhana