Visesha Pooja Tickets Availability : TTD Online Booking
Visesha Pooja Seva Tickets Availability (Visesha Pooja) is one of the weekly Sevas which will be specially performed on Monday. This Puja was begun by Tirumala Tirupati Devasthanam on April 8th, 1991 and later it became as Arjitha Seva.
After the second bell is completed, the idol of Utsav Murthy and his Consorts Sridevi and Bhudevi are brought outside from the main temple and placed in the Kalyana Mandapam i.e., Mukha Mandapam for the purpose of 'Chaturdasa Kalasa Visesha Pooja' that is with14 Kalasas are used for this devotional ritual.
After that, the Archakas will provide Ankurarpana and Punyaha Vachanam for the seeking of Lord Venkateswara.
Ankurarpana is the very simple ritual of only putting the grains with Palikas after that Agnihomam is started.
The 14 Kalasas are used for this Puja to give a holy bath i.e. Tirumanjanam, first seven Kalasas will have pure water (Suddhodaka) and remaining Kalasas contains Gingerly Oil, Milk, Curd, Ghee, Akshimthalu (Akshatas), Darbha (Bilva Leaves), Panchgavya.
With this 14 Kalasas, Abhishekam is performed to the Utsava Murty and his Consorts goddess Sridevi and Bhudevi.
Visesha Pooja consists of 5 Sukhtas that is known as Pancha Sukhtas. Then the Pancha Sukhtas are Bhu (Earth), Nila (Sky), Narayana (Lord), Purusha (Man), Sree (Women).
The devotees who are sponsoring for the particular Arjitha Seva for those Sankalpam is performed. Then the Visesha Pooja starts with upacharas to Lord Venkateswara.
The Abhishekam is done with 7 Kalasas like Milk, Curd, Ghee, Akshimthalu, Darbha and Panchgavya.
After Aarti is performing to Lord Venkateswara and the idols is given a bath with water in the Kalasas.
After that, the Pumahuthi is performed that is indicated as Homam. And Naivedyam is offered to Lord Venkateswara.
The Arjitha Seva ticket holders can take a part in this Seva and they will be offered (are presented) with Vastra Bahumanam (for Men Upper Cloth (uttariyam), 1 Laddu, 1 Vada and For Women 1Blouse Piece, 1 Laddu, 1 Vada).
The Arjitha Seva ticket holders are sent for the Darshan of the Lord Venkateswara in the Sanctum Sanctorum.
Timings for Visesha Pooja
For Reporting Time – 06:30 AM
Visesha Pooja will start at 07:30 AM– 09:30 AM.
Devotees should gather one hour before the time at Vaikuntam Queue Complex-1.
Ticket Cost for Visesha Pooja
The cost of Visesha Pooja Ticket is Rs. 600/-
It is one ticket per person
To carry ticket along with photo, ID proof
Prasadam :
1 Big Laddus and 1 Vada as Prasadam and Vastra Bahumanam are given to the ticket holders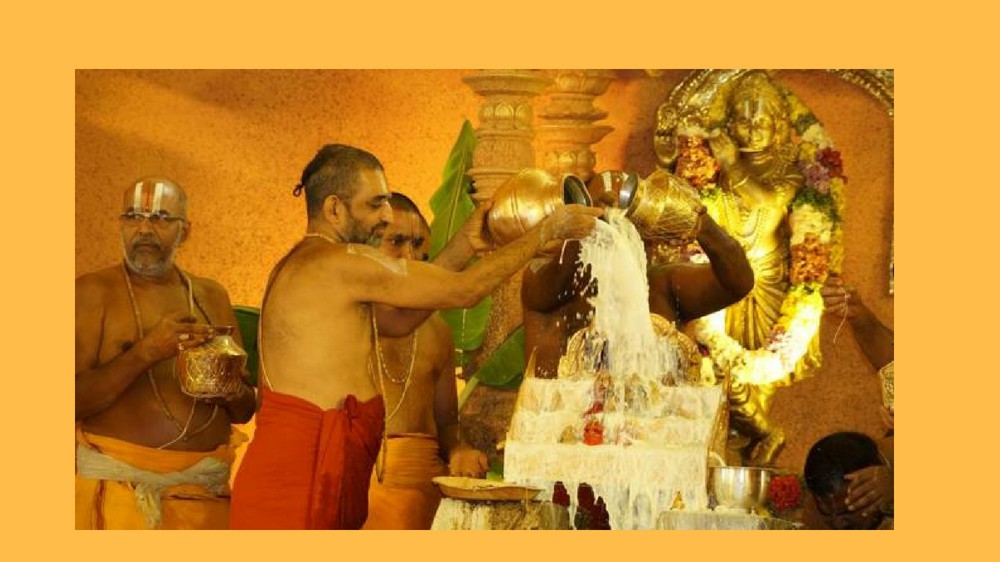 How To Book Visesha Pooja: TTD Online Booking Registration Process
The availability of TTD Visesha Pooja Tickets is very less because of several numbers of peoples is visiting in Tirumala Tirupati Devasthanam for every day.
Visesha ticket should be booked before 3months in advance through online or from TTD e portals since it is very difficult to get the tickets.
This Visesha Pooja will perform only on Mondays and will not observe when special occasion as Pavitrotsava, Brahmotsavam and more take place.
Book Visesha Pooja Seva Tickets Online Here: Book TTD Seva Tickets Online
Also Read: TTD Abhishekam Seva